Stagdale
Available Formats
Tracks
Price
Buy
7" Vinyl Album
3 tracks

£

13.99

Out of stock
Description
The Hardy Tree - Stagdale
Flexi-disc with download and 36 page booklet.
One track on flexi two as download.
250 numbered copies.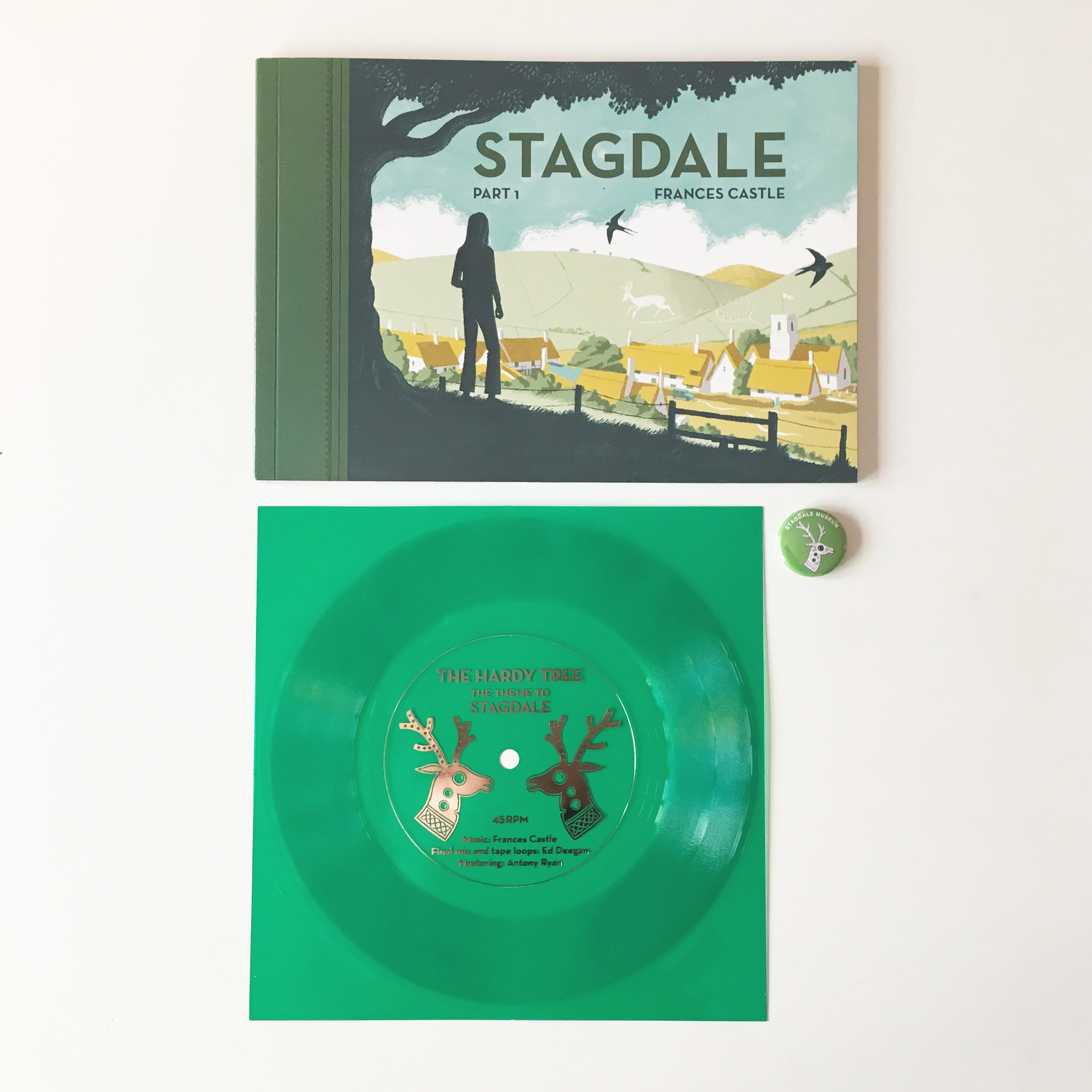 Stagdale is a graphic short story and three track EP on flexi disc/download by Clay Pipe founder Frances Castle and her musical alter ego The Hardy Tree.
Three tracks of Moog based electronics soundtrack the first part of this 1970s pastoral childhood mystery. It's the summer of 1975 and despite the addition of a new housing estate the ancient village of Stagdale remains an insular place, suspicious of change. Nestled into the chalk-scared valley lies Stagdale Manor, home to Lord Ethelbert, a self-proclaimed descendant of a Saxon King. Once grand, the estate is slowly slipping into a state of dilapidation.
Hoping to find a new life for themselves, 12-year-old Kathy and her recently divorced mother rent an old damp cottage from Lord Ethelbert on the outskirts of the village. It's not long before Kathy befriends local boy Joe
who enjoys telling her stories about village life, both past and present. He takes her to the museum and shows her the empty glass case where the Stag Jewel, a Saxon gold amulet in the shape of a deer's head, used to be
displayed. The jewel was thought to have once brought Stagdale prosperity and luck, but according to local legend, it was stolen by a German boy who lived in Kathy's house during World War Two.
Tracklisting
7" Vinyl Album (PIPE 020)
The Hardy Tree

- Theme to Stagdale

The Hardy Tree

- In The Museum

The Hardy Tree

- After The Rain